Russell House today
2004
Jpg: Wendy & Gordon Hawksley

Broadway Pictures

From: Wendy & Gordon Hawksley
g w @ whawksley. fsnet. co. uk
Date: Sunday, April 25, 2004
We were in Broadway yesterday and made a special point of photographing Russell House for you, as we promised many months ago !
Here are our efforts. Unfortunately the light was not very good as it was rather cloudy for a time and, in addition, the front of the house is precisely north facing, on what is now a very busy road with a narrow footpath opposite. You will see that on photograph 1 of 9 [Photo above] we have attempted to reproduce exactly the photograph you have on your site which is dated 1886. There have obviously been some changes to the structure of the house. In our photographs you will see that the main entrance of the house has been moved to the right by infilling the archway [Pic 3]. We think the railings are still there but are hidden in the yew hedge (we didn't go and look as we probably looked suspicious enough!). The gateposts and canopy have been retained but have been moved to accommodate the new entrance. We think photograph 4 of 9 shows some interesting architectural detail and on the left you can discern the filled in arch. The rest of the photographs are reasonably self explanatory. However, we are not sure of the function of the small building shown in 8 of 9 and 9 of 9 but it looks like a rather romantic folly. In photo 9 of 9 you can just see the battlements of another building that is obviously in the garden. We hope all this is of interest.
As an aside, you have no idea how many people passed us when we were taking these and asked us if we wanted them to smile !!! Rather strangely, no one asked us what we were actually doing!
With our very best wishes,
Wendy & Gordon Hawksley

Notes:
Special thanks to Wendy & Gordon Hawksley, of Sheffield England, wonderful friends of the JSS Gallery, for taking pictures of Broadway specifically for the JSS Gallery.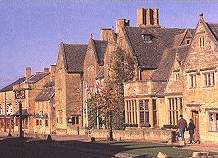 Broadway, The Cotswolds, England