The St. Botolph Club
(located at 199 Commonwealth Ave.)

St. Botolph Club was essentially a men's art club in Boston, first formed in 1880. Its members were people within the arts, letters, and prominent Boston's society types with the intent of connecting patrons to artists. It was roughly similar in theme to the Century Club in New York, and held an annual exhibition. Among the founders were Thomas Jefferson Coolidge (first owner of Sargent's El Jaleo) Frederic Porter Vinton, William Dean Howells, architect Henry Hobson Richardson, sculptor Daniel Chester French, and Henry Lee Higginson
(Kilmurry & Ormond; The Later Portraits, Yale University Press, 2003, p 14)

Sargent exhibited at the inaugural exhibition showing the portrait of his teacher Carolus-Duran.

In 1888, the St. Botolph's Club would be the site of Sargent's first one-man show (anywhere) which turned out to be a phenomenal success and acted as a pronouncement of his great portrait abilities.
The St. Botolph's Club would also be renowned for holding the first Monet exhibition within Boston.
Note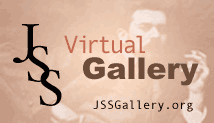 By: Natasha Wallace
Copyright 1998-2005 all rights reserved