Alfred Egerton Cooper's Study for a Churchill portrait
(Frontpage) (Thumbnail Index)


Study for a Churchill portrait

Alfred Egerton Cooper - English Portrait Artist (1883-1974)

Date?

Private collection

Oil on Canvas

Size?

Jpg: anonymous


Alfred Egerton Cooper (1883-1974) was born in Tettenhall near Wolverhampton. He was best known as a painter of portraits, (including King George VI and Churchill), but also painted landscapes. While still a student, Cooper came under the watchful eye of John Singer Sargent and was mentored by the master -- even working in Sargent's studio (but to what degree remains unclear). He served in World War I where the sight of one eye was damaged by chlorine gas. He lived most of his life in Chelsea and exhibited in London at the Leger and the Leicester galleries.




Notes
Image from anonymous source.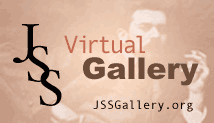 By: Natasha Wallace
Copyright 1998-2003 all rights reversed
Created 9/24/2002
Updated 2/26/2003