Giovinetta Errazuriz
Giovanni Boldini -- Italian-French portrait painter
1892
Private collection
201.3 by 101 cm. (79 1/4 by 39 3/4 in.)
Oil on canvas
signed and dated Boldini/1892 (lower left)
jpg: Sothebys
From: Sothebys
Only ten years old when she sat for Boldini, Giovinetta comes across in her portrait as a challenging customer, assured and commanding as she locks the artist and viewer in her gaze. Whether Giovinetta chose her own costume, or whether Boldini threw it together to amuse her, she is very strangely dressed. Her white bonnet, with its double rows of ruching, was intended for a four or five year old child; the black velvet cape pulled askew across her shoulders and the tightly furled umbrella were walking costume for a grown woman. Still, the coloring of Giovinetta's outfit complements her dark eyes and rosy cheeks and she wears the disparate garments with aplomb. Boldini treated her unusual garb with the same attention to flourish and detail that he employed for adult clients.
As Giovinetta slides down on the satin cushions, her dress has pulled back above the top of her black stocking, revealing an inch of thigh. 'The notorious centimeter of skin,' as Boldini's wife described it, created a damaging scandal when Boldini exhibited the painting at the Venice Biennale in 1897 (although it should be noted that the French had barely noticed when Boldini presented the work in Paris, a few years earlier). Boldini's willingness to exhibit the portrait in important presentations suggests he himself recognized no leering irony in his conception of Giovinetta. It is much more likely that his deliberate inclusion of the detail (which he could easily have painted out) was part and parcel of the ambiguities presented by Giovinetta herself, a self-assured coquette, halfway between childhood and womanhood, still too innocent to fully understand her own power to charm.
Giovinetta Errazuriz was the daughter of Madame Josephina Alvear de Errazuriz (see lot 130), a prominent Chilean expatriate living in Paris during the 1890s.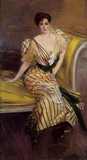 Madame Josephina Alvear de Errazuriz
1892
(Mother to Giovinetta Errazuriz)
Boldini's affection for his painting of Giovinetta is underlined by the 'portrait of a portrait' which he kept in his studio: a painting of his workshop with the present Portrait of Giovinetta propped aslant in the center (Museo Boldini, Ferrara).
This catalogue entry was written by Alexandra Murphy.
(Sothebys)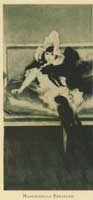 Boldini Exhibit
Wildenstein Galleries, New York
1933
page 6 catalogue


Notes



Provanance



Sold by the artist directly to Baron Maurice de Rothschild
Thence by descent
Sale, Christies, New York, November 1, 1995, lot 15 (purchased by Edmond Safra for Republic National Bank)




Exhibitions



Paris, Exposition Nationale des Beaux-Arts, May 1892, no. 138 as `Mlle. E.'
Venice, Biennale, 1895, no. 37
New York, Wildenstein and Co., Loan Exhibition of Paintings by Boldini 1845-1931, March 20-April 8, 1933, no. 14



Bibliography



New York Evening Post, March 27, 1933, illustrated
E. Cardona, Boldini, Parisien d'Italie, Milan, 1952, p. 104
D. Cecchi, Boldini, Turin, 1962, p. 134
C. Ragghianti and E. Camesasca, L'Opera completa di Boldini, Milan, 1970, no. 232, p. 108, illustrated
G. Piazza, Boldini, Milan, 1989, p. 298
B. Doria, Giovanni Boldini Catalogo generale dagli archivi Boldini, Milan, 2000, no. 296, illustrated
P. Dini, F. Dini, Boldini Catalogo ragionato, Turin 2002, vol. III, p. 317, no. 582, illustrated
F. Panconi, Boldini L'opera completa, Firenze 2002, p. 337, illustrated



Sale




Offered for sale at Sotheby's New York, 26 Oct 04, Sale N08019, lot 124, estimated 600,000—900,000 USD