Marchesa Luisa Casati, with a Greyhound
Giovanni Boldini -- Italian-French portrait painter
1908
Private collection
Oil on canvas
jpg: community webshots
From: The Casati Archives
"For the first three decades of the twentieth century, the fabled Marchesa Luisa Casati (1881-1957) attained a reputation as the brightest star in European society. Possibly the most artistically represented woman in history after the Virgin Mary and Cleopatra, the portraits, sculptures and photographs of her would fill a gallery. In a quest for immortality, she had herself painted by Boldini, Augustus John, Van Dongen and Zuloaga; sketched by Drian, Martini and Alastair; sculpted by Balla, Barjansky and Epstein; and photographed by Man Ray, Beaton and de Meyer. She fascinated Diaghilev, frightened Artur Rubinstein, angered Aleister Crowley and intimidated T.E. Lawrence. As muse to the Italian futurists Marinetti, Balla and Boccioni, she conjured up an elaborate marionette show with music by Ravel. Bakst, Poiret, Fortuny and Erté dressed her. She gave parties where Nijinsky invited Isadora Duncan to dance. Everywhere she went, she set trends, inspired genius and astounded even the most jaded members of the international aristocracy.
" . . . [She was the] second daughter of a wealthy cotton manufacturer, Alberto Amman and his wife Lucia Bressi, [but the] early deaths of her parents made Luisa and her elder sister, Francesca, the wealthiest heiresses in Italy . . .
(The Casati Archives)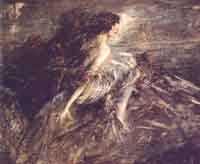 La marchesa Luisa Casati con penne di pavone
(Portrait of the Marquise with peacock pens)
1914
Notes
Special thanks to Stephanie for sending me a link to this panting.
Forum
From: Scot Ryersson
<lesfo usde 1900@msn.com>
Date: Mon, 3 Feb 2003
We are the authors of "Infinite Variety: The Life and Legend of the Marchesa Casati" - the first full-length, family-authorized biography of the infamous eccentric art patron and muse, the Marchesa Luisa Casati (1881-1957).
Please visit our website for more info - we think you'll find this woman fascinating!
Site in Italian