Giovanni Boldini's Ritratto Diego Martelli
(Frontpage) (more on Giovanni Boldini)


Ritratto Diego Martelli
(Portrait of Diego Martelli)
c. 1865
Firenze, Galleria d'arte moderna di Palazzo Pitti
Oil
Size?
jpg: Gabriella Alü
Diego Martelli was one of the leading and influential art critic in Florence -- a defender of the Macchiaioli and the impressionists and became close friends with artists who displayed the qualities most admired in Degas.
Edgar Degas
French Realist/Impressionist Painter and Sculptor
(1834-1917)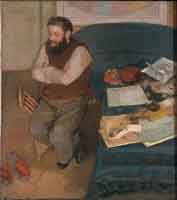 Portrait of Diego Martelli
1879
Martelli was an extraordinary figure and is one of the key intellectual players in late 19th century Italian art, writing on topics of Art as well as Social and Political issues. Though not a overly wealthy man, he helped the artists he cared about as much as he could and at the time of his death had amassed an amazing collection from the artists of the Macchiaioli.

Notes
Special thanks to Gabriella Alü, of Palermo Italy, a friend of the JSS Gallery, for sending me the image and information.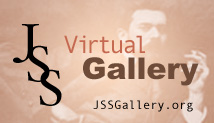 By: Natasha Wallace
Copyright 1998-2003 all rights reserved
Created 10/30/2003
Updated 11/17/2003