Anna Gould
Date?
Owner?
Oil on canvas
Size?
Jpeg: Friend of the JSS Gallery
From: Matt Davies
matt da vies@jssgallery.org
Date: Tue, 6 Aug 2002
Anna Gould. She was the daughter of millionaire 'robber baron' Jay Gould, and sister of George Jay Gould. In 1895, at her brother's town house in New York, she married Paul Ernest Boniface ('Boni'), Marquis de Castellane. The two lived in Paris and had three children. After ten unhappy years the marriage was annulled in 1905, and three years later she married his cousin, Helie, Prince and Duc de Talleyrand-Perigord. The couple had two more children. Helie died in 1937, and when war broke out in 1939, Anna returned to the U.S., staying at the Plaza hotel, and occasionally at the Gould family home, Lyndhurst in the Hudson Valley, which had been owned by her sister Helen until her death in 1938. Anna died in France in 1961.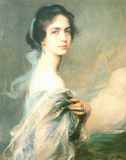 Marquise de Castellane
c. 1920?
(Anna Gould?)

Note:
Special thanks to Matt Davies, of Kansas City, a friend of the JSS Gallery, for sending me notes regarding this image.
"This is from Patrick Chaleyssin's Le Peinture Mondaine de 1870 a 1960, Bibliotheque de l'Image, 1993. "