The Jockeys' Dressing Room at Ascot
Sir John Lavery -- Irish painter
1923
Tate Gallery
Oil on canvas
63.5 x 81.3 cm
Presented by the Trustees of the Chantrey Bequest 1924 N03958
Jpg: Tate Gallery
From: Tate Gallery
Frances Fowle, October 2000
This is one of a series of pictures of jockeys and racegoers that Lavery produced during the early 1920s. . . . A keen horseman, Lavery had sketched his first racing scenes at Newmarket in 1913, and in 1919 he painted The Derby in the Rain (ex Fine Art Society). In 1923 he produced a similar picture of the Ascot races in a downpour, which resulted in his spending two weeks in bed. In general, however, in these later works, instead of focusing on the racetrack, Lavery sketched in the warmth and relative comfort of the dressing rooms and weighing rooms at Ascot, Epsom and Hurst Park. . . .

Developing the theme of this picture, the following year Lavery painted the weighing room at Hurst Park from a closer viewpoint,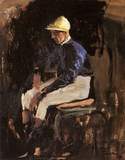 and incorporating thirteen of the most famous jockeys of the day. (This painting is in a private collection, and the preparatory sketch is in the Ulster Museum in Belfast.) Lavery apparently persuaded the jockey, a man called Donoghue, that if he posed in the scales he would win the race (possibly the Lincoln Handicap) [Thumbnail]. When Lavery's prophecy came true, all the other jockeys thereafter would touch the artist's shoulder for good luck before going out to race.
Further reading:
Kenneth McConkey, Sir John Lavery, Edinburgh 1993, pp.175-7, reproduced p.175.
Note: