Princess Louise of Battenberg 1907
Philip Alexius de Laszlo -- British painter (1869-1937)
1907
Owner?
Oil
Size?
Jpg: Friend of the JSS Gallery
When, during World War I, German names and titles were looked upon with disdain in England, the Battenbergs changed their name to Mountbatten, so Louie was styled Lady Louise Mountbatten. In 1923 she married Crown Prince Gustav Adolf of Sweden, and they later ruled Sweden as King and Queen. This picture is the frontispiece form Marget Fjellman's Louise Mountbatten, Queen of Sweden, London: George Allen and Unwin Ltd., English ed., 1968.
Below is Princess Louise of Battenberg's sister Princess Alice of Battenberg (also painted 1907), who was by then married to Prince Andrew of Greece.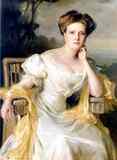 Princess Andrew of Greece (Alice of Battenberg)
1907
See also Lord Louis Mountbatten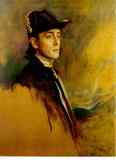 Lord Louis Mountbatten
1925
Notes