Philip Alexius de Laszlo's Queen of Spain
(Frontpage) (Thumbnail Index) (more on Philip Alexius de Laszlo)


Queen of Spain
Philip Alexius de Laszlo -- British painter (1869-1937)
1920
Owner?
Oil
Size?
Jpg: Friend of the JSS Gallery
Queen Victoria Eugenia (Ena) of Spain (painted 1920). Ena was the daughter of Prince Henry of Battenberg and his wife, Prince Beatrice (youngest daughter of Queen Victoria). In 1906 she married King Alfonso XIII of Spain.
This painting was actually found in old Pond's ads.
Laszlo would again paint the queen, this time the king as well, in 1927.

King Alfonso XIII of Spain

1927

the Museo Nacional Centro de Arte Reina

Sofía, Madrid

Oil

Size?

Queen of Spain

1927
Notes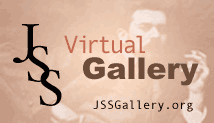 By: Natasha Wallace
Copyright 1998-2003 all rights reserved
Created 8/14/2002
Updated 08/22/2003