Philip Alexius de Laszlo's Vicomtesse de Fontenay (Frontpage) (Thumbnail Index) (more on Philip Alexius de Laszlo)


Vicomtesse de Fontenay
Philip Alexius de Laszlo -- British painter (1869-1937)
1913
Collection Musée Lambinet
Oil
100 x 73 cm. (39 3/8 x 28 ¾ in.)
Signed and dated l.l. "P.A. de László 1913 V"
Jpg: www.cg78.fr/
Notes

The portrait was offered for sale by Libert-Castor, Paris, on 19 January 1994, as lot 106, with an estimate of FRF 20,000-25,000. I assume it was
purchased at the time by the Musée Lambinet. It looks like the portrait will be included in the exhibition "Versailles, Vie Artistique, Littéraire et Mondaine, 1899-1939" at the Musée Lambinet from Dec. 2, 2003-Feb. 20, 2004.
-- Matt Davies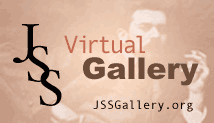 By: Natasha Wallace
Copyright 1998-2003 all rights reserved
Created 8/13/2003