Viscountess Castlereagh
(Preparatory Sketch)
1913?
Private Collection
Oil on Board
73.6 x 51.5 cm. (29 x 20 ¼ in.)
Jpg: Christies
From: Christies
Lady Castlereagh and the artist co-operated together in the design of the formal portrait, for which this is a sketch. The finished painting was to be hung in the big portrait gallery in Londonderry House on Park Lane, London, among their collection of Gainsborough, Reynolds and Lawrence pictures. There exists another preparatory sketch of the sitter standing full length in a room at Londonderry House, which remains in the collection of a descendant of the artist's brother, Marczi László. The sitter was also drawn by John Singer Sargent in 1913.
The Viscountess Castlereagh, later Marchioness of Londonderry, wife of the 7th Marquess, née The Hon. Edith Chaplin, D.B.E., J.P., was born in 1878, the eldest daughter of 1t Viscount Chaplin. She married Charles Stewart Henry Vane-Tempest-Stewart, later 7th Marquess of Londonderry, in November 1899. She was the most distinguished political hostess of her day, an early and influential supporter of women's suffrage, and a brilliant gardener, creating the Mount Stewart gardens in Co. Down, now owned by the National Trust. She died in 1959.
We are grateful to Sandra de Laszlo for her assitance in cataloguing this work.
(
Christies
)



John Singer Sargent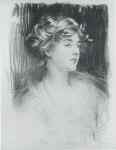 Edith, seventh Marchioness of Londonderry.
(AKA Viscountess Castlereagh)

From: Susan Harpell
un cl ezippy@wiscasset.net
Feb 7, 2005



The dog in this preparatory sketch is believed to be a Labrit, now considered to be a Berger des Pyrenees, Pyrenean Shepherd, Basque sheepdog. I have various newspaper articles (1910; 1911) that talk to her having a Labrit, breeding the Labrit, showing the Labrit at one of the Cruft dog shows.






Notes

Reproduced:


Christie's South Kensington. Modern British and Continental Paintings, Watercolours, Drawings and Sculpture. Including Works from the Studios of Philip de László. . . 13 June 1997 (Auction Catalog), p. 20 ('Lady with a Dog'); Christie's South Kensington, Twentieth Century British Art, Oct. 14, 2004 (Auction Catalog), lot. 44

Literature:


G. Rowcliffe & Co., Will Trust. Inventory of Portraits, Pictures, Studies, Sketches, Drawings, etc. by Philip Alexius László de Lombos, M.V.O., London, 1938, p. 38, no. 198; Christie's South Kensington. Modern British and Continental Paintings, Watercolours, Drawings and Sculpture. Including Works from the Studios of Philip de László. . . 13 June 1997 (Auction Catalog), p. 20 ('Lady with a Dog'); Christie's South Kensington, Twentieth Century British Art, Oct. 14, 2004 (Auction Catalog), lot. 44

Provenance:


The artist's estate; Christie's South Kensington. Modern British and Continental Paintings, Watercolours, Drawings and Sculpture. Including Works from the Studios of Philip de László. . . 13 June 1997, lot. 60 ('Lady with a Dog');


Offered for sale at Christie's South Kensington, Twentieth Century British Art, Oct. 14, 2004, Sale No. 9931, lot. 44 (est. £700-900)