On the Verandah
(Ironbound Island, Maine)
John Singer Sargent -- American painter
1920-1922?
Private collection
Watercolor on paper
38.1 x 52.1 cm (15 x 20 1/2 in.)
Inscribed: (Lower left:) to my friend Dwight Blaney John S. Sargent

Jpg: .the-athenaeum & Artnet.com
'On the Verandah' shows Dwight Blaney & his wife Edith with their 2 daughters Elizabeth (l) and Margaret (r) -- Ben Blaney

This is at their summer house in Maine. Dwight Blaney (1865-1944) is seated in a chair, reclining with his legs stretched out before him. He is smoking a pipe. His wife, Edith Hill Blaney, who is wearing a hat, is seated, facing away from her husband, and is sewing. Their daughter Margaret ("Meg") (b. 1898) is seated on bench against the house. Elizabeth ("Libby") (b. 1905) is seated on the edge of the porch. Both daughters are also sewing.
(SIRIS)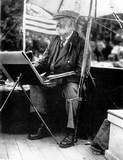 Photo of Sargent painting a watercolor aboard
Dwight Blaney's Yacht Norma Ironbound Island Maine.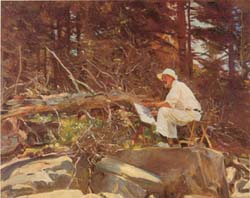 The Artist Sketching
1922
(Dwight Blaney)

Note:
Provenance:
Formerly in the collection of Blaney, Dwight, until 1944.
Blaney, David,
Christie's, New York, New York Sale (Nov. 30, 1999), lot 62.

Bibliography:
Ormond, Richard and Elaine Kilmurray, "John Singer Sargent: complete paintings; volume 3, The later portraits," New Haven, CT: Yale University Press, 2003, no. 584.
McKibbin, David, "Sargent's Boston," Boston, Museum of Fine Arts, 1956.

Illustration:
Ormond, Richard and Elaine Kilmurray, "John Singer Sargent: complete paintings; volume 3, The later portraits," New Haven, CT: Yale University Press, 2003, pg. 249.

SIRIS IAP 81690548
JSS 10000

Sale
Sold at Christies LA; 11/30/1999; Lot 62; $387,500