Ada Rehan

John Singer Sargent -- American painter

1894-1895

Metropolitan Museum of Art, NY

Oil on canvas

53.7 x 43.2 cm (20 x 16 in.)

Bequest of Catherine Lasell Whitin,

in memory of Ada Rehan 1940

40.146

Jpg: Local

(click on the image to step closer)


Ada Rehan, 1860-1916 an Irish born American actress. Her name was actually Ada Crehan, but took the stage name of Ada Rehan after being once mistakenly billed as such.

She was popular in comedy roles in New York theater, and played the leading woman of the Augustin Daly Stock Company with more than 200 different roles. She join John Drew's Philadelphia troupe and was often his leading lady there as well.

She moved to London in 1884 and became just as popular, adding a number of Shakespearean roles to her repertoire. She was probably best known as Katherine in The Taming of the Shrew. She retired in 1905 and died eleven years later in 1916.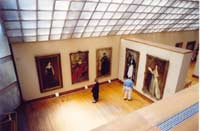 See John Singer Sargent's Art
Met Interior
2002

Notes:
See the year in review 1894