Sketch for the Judgement

Double-sided Drawing - Boston Public Library Murals - a.( Recto) Sketch for the Judgement b.(Verso) Rough Sketch for the Judgement

John Singer Sargent -- American painter

Date?

Museum of Fine Arts, Boston

Recto and Verso: Graphite pencil on paper

Sheet: 26 x 41 cm (10 1/4 x 16 1/8 in.)

Sargent Collection. Gift of Miss Emily Sargent and Mrs. Violet Ormond in memory of their brother John Singer Sargent 28.811

Jpg: MFA

(See interactive zoom at the MFA)

An unused version of The Judgment above with a man being pulled back and considered by angels.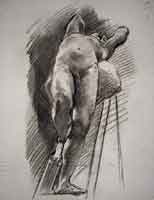 The finished version of The Judgement below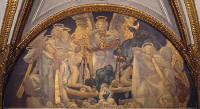 The Judgment
(West Wall, center lunette)
1916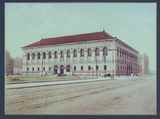 The Boston Public Library
Notes:
A special thanks to Dale for sending me this image.