Studies for
Joyful Mysteries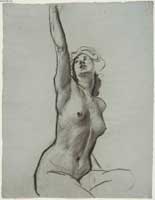 Sketch for the Joyful Mysteries - Eve(?)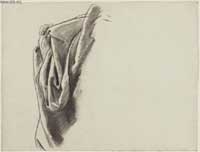 Sketch for the Joyful Mysteries - Drapery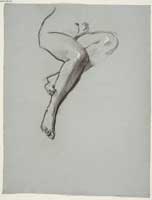 Sketch for the Joyful Mysteries - Eve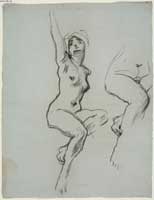 Sketch for the Joyful Mysteries - Eve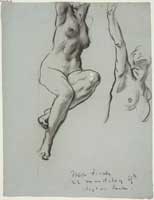 Sketch for the Joyful Mysteries - Eve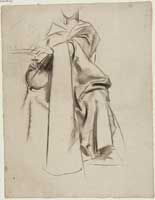 Sketch for the Joyful Mysteries - Figure at Right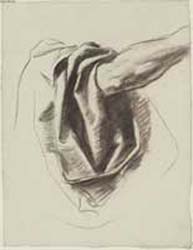 Sketch for the Joyful Mysteries - Gabriel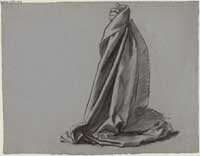 Sketch for the Joyful Mysteries - Gabriel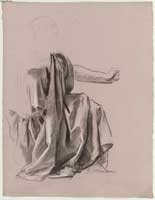 Sketch for the Joyful Mysteries, The Annunciation - The Angel Gabriel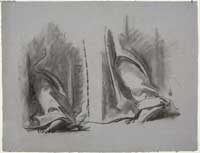 Sketch for the Joyful Mysteries, The Finding of Our Lord in the Temple - Drapery Study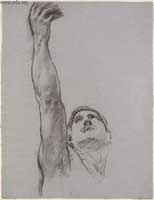 Sketch for the Joyful Mysteries - Male Head and Arm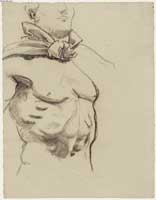 Sketch for the Joyful Mysteries - Resurrection, Half Length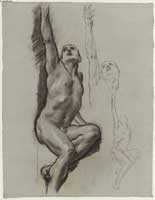 Sketch for the Joyful Mysteries - Seated Man, Reaching Upward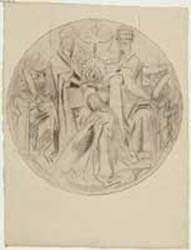 The Coronation of the Virgin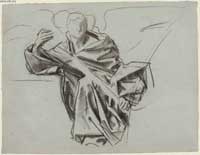 The Coronation of the Virgin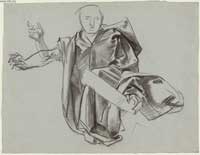 Sketch for the Glorious Mysteries - Matthew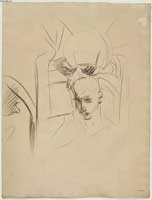 Sketch for the Joyful Mysteries, The Coronation of the Virgin
Mysteries of the Rosary (full 1)

(South End: Vaulting )

John Singer Sargent -- American painter

1916

Boston Public Library Murals
Oil on canvas with plaster,
Lincrusta-Walton, and papier-mâché reliefs
1094 x 257 cm
(1999 photo)

Jpg: Sargentmurals.bpl.org


The mural is divided into the Joyful Mysteries above and the Sorrowful Mysteries below. Within this very complex and intricately designed space is

packed

some incredibly wonderful pieces of art. I am sorry I can't show you any of the detail here as there are no images available that I know of.

There is the slightly better image of the lower half -- the Sorrowful Mysteries. Studies related to this are grouped there.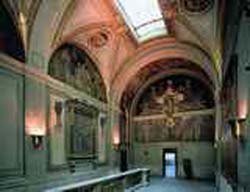 Sargent Hall
General view of South End, Boston Public Library

Notes:

Studies for
Joyful Mysteries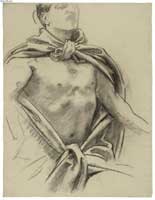 Sketch for the Joyful Mysteries, the Resurrection - Draped Male Figure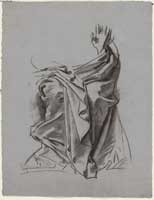 Sketch for the Joyful Mysteries, the Mother of God - Draped Figure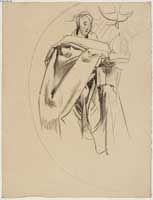 Sketch for the Joyful Mysteries, The Coronation of the Virgin - Figure at Right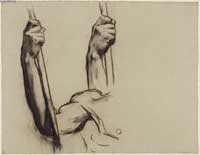 Sketch for the Joyful Mysteries, the Resurrection - Right Shoulder, Arm and Hand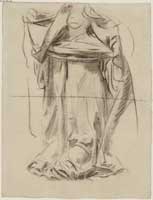 Sketch for the Joyful Mysteries, The Annunciation - The Virgin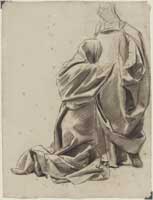 Sketch for the Joyful Mysteries, The Annunciation - The Virgin's Drapery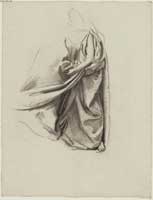 Sketch for the Joyful Mysteries, The Visitation - Drapery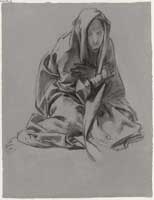 Sketch for the Joyful Mysteries - The Virgin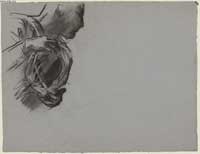 Sketch for the Joyful Mysteries, The Nativity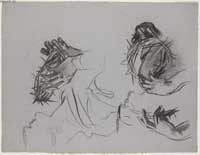 Sketch for the Joyful Mysteries, The Nativity - Angel with Crown of Thorns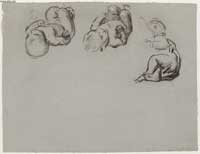 Sketch for the Joyful Mysteries, The Nativity - Three Studies of an Infant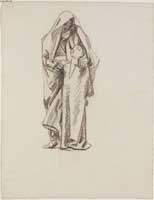 Sketch for the Joyful Mysteries, the Finding of our Lord in the Temple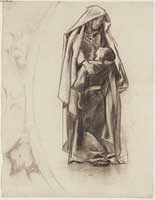 Sketch for the Joyful Mysteries, The Finding of our Lord in the Temple - Virgin and Child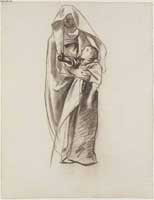 Sketch for the Joyful Mysteries, The Finding of our Lord in the Temple - Virgin and Child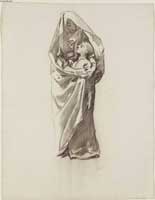 Sketch for the Joyful Mysteries, The Finding of our Lord in the Temple - Virgin and Child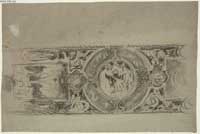 Sketch for the Joyful Mysteries,
Ceiling Study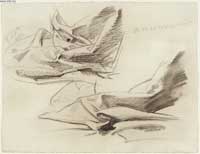 Sketch for the Joyous Mysteries - Drapery for Gabriel