Pagan Gods Astarte and head of Neith
(North End: Vaulting, right side)
John Singer Sargent -- American painter
1895
Boston Public Library Murals
Jpg: artmuseums.harvard
Upper half is Head of Neith (upside down - see alternate flipped image). Lower half is Astarte.
"(. . .) in contrast, is the beautiful, soulless figure of Astarte, goddess of sensuality, veiled in blue, standing upon the crescent, and surrounded by enticing, female figures and prostrate victims."
-- John Singer Sargent, 1916
(Sargent's Own Explanation on murals)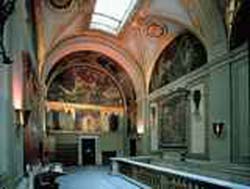 General view of North End, Sargent Hall, Boston Public Library

Notes: