Lady Diana Manners
1914
Private collection
Charcoal
Size?
Jpg: Friend of the JSS Gallery
From: Matt Davies
Matt Da vies@jssgallery.org
Date: Fri, 21 Jun 2002
Lady Diana Manners is the daughter of the Duke and Duchess of Rutland. In 1919 she married Duff Cooper (later Viscount Norwich).
---
In June of 1916 the drawing was exhibted with the the Royal Society of Portrait Painters at the Grafton Galleries which was reviewed in the Daily Mail, 3 June 1916.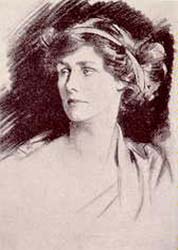 Lady Violet Manners Charteris
1916?
Sister to Lady Diana Manners

Notes:
Special thanks to Matt Davies, of Kansas City, a friend of the JSS Gallery, for sending me a note regarding this image.
One source on this image is from the book John Singer Sargent and the Edwardian Age, by James Lomax and Richard Ormond, an exhibit catalog from the Leeds Galleries, 1979.