Rosina-Capri

Larger image

Jpg: Friend of the JSS Gallery


This is a larger image of the painting taken from a scanned postcard showing more detail. Michele Lener, who has seen the original, tells me the smaller image shows the truer tone n shading.


(Step back to see smaller image)

Note:
Special thanks to Michele Lener, of Italy, a friend of the JSS Gallery, for sending me a postcard of this painting.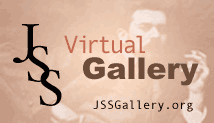 By: Natasha Wallace
Copyright 1998-2003 all rights reserved
Created 5/23/2001
Updated 4/3/2003