Sketch After "El Jaleo"
John Singer Sargent -- American painter
c. 1879-82
Private collection
Sepia ink on paper
22.9 by 35.6 cm (9 by 14 in.)
Signed John S. Sargent, l.l.
Jpg: Sotheby's / Askart.com
El Jaleo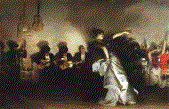 El Jaleo
1882

Note:


Sale

Sold at Sotheby's New York, 30 Nov 2005; Session 1, Sale No. N08134, Lot 41; $228,000 USD (was estimated 125,000—175,000 USD)


Sold Sotheby's; 12/1/1994; Lot 10; $76,750




This drawing will be included in a forthcoming volume of the J.S. Sargent catalogue raisonné being compiled by Richard Ormond and Elaine Kilmurray, in collaboration with Warren Adelson and Elizabeth Oustinoff.


Provenance



The artist
George Bernheim, Paris, France, before 1924
M. Knoedler & Co., New York, 1924
Johnston L. Redmond
By descent in the family (sold: Sotheby's, New York, December 1, 1994, lot 10, illustrated)
Acquired by Ruth Pruitt Phillips, Jacksonville Fl
Now selling from the Estate of Ruth Pruitt Phillips



Exhibited



New York, The Metropolitan Museum of Art, Sargent Memorial Exhibition, 1902
Berkeley, California, University of California, University Art Museum, n.d.
Washington, D.C., The National Gallery of Art; Boston, Massachusetts, Isabella Stewart Gardner Museum, El Jaleo, March-November 1992, no. 52, p. 196, illustrated




Forum:

Subject: Other El Jaleo studies
From: Ferzoco
SF ER ZOCO@PARTNERS.ORG
Date: Thu, 15 Feb 2001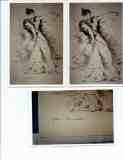 I recently acquired a pen and ink drawing of El Jaleo that the seller was under the impression of being by Sargent. The piece is signed. I am no Sargent scholar so I took the piece to a variety of individuals (Museum of Fine Arts in Boston, as well as a few fine art experts) and no one could say for sure whether it was by him. Would you be interested in seeing the item?
stephen
From: Natasha
Thank you for sending the drawings. If you take a look at the image of Sketch After "El Jaleo" (above) there isn't too much doubt in my mind that what you have is a John Singer Sargent drawing (or one done by someone who deliberately copied a John Singer Sargent drawing). The question is -- is it a fake or is it real? That I couldn't answer you.