Studies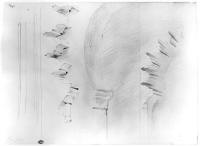 Details of an Ogival Arch Tangier
1879-1880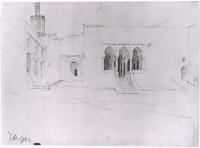 Sketch of a Building with Entrance of Three Ogival Arches, Tangier 1879-1880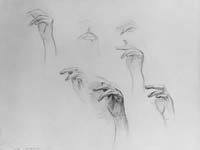 Left Hand for "Fumee d'Ambre Gris"
1879-1880

Fumée d'Ambre Gris
John Singer Sargent -- American painter
1880
Clark Art Institute, Williamstown, Mass.
Oil on canvas
139.1 x 90.8 cm (54 x 26 3/4 in.)
Signed and inscribed lower right: John S. Sargent Tanger; pentimento of signature and inscription lower center: John S. Sargent Tanger
Jpg: Local source / Lee Sanstead


(Click on image to Step Closer)
Notes:
Special thanks to Lee Sandstead of New York, for being a friend of the JSS Gallery, for taking this picture on his trip and sharing this with us.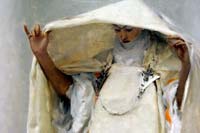 Fumée d'Ambre Gris
Close-up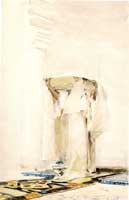 Incensing the Veil
c. 1880
Watercolor