Betty Wertheimer Salaman
(Mrs. Arthur Ricketts)

John Singer Sargent -- American painter
c. 1910-1912
Hirshhorn Museum and Sculpture Garden
Watercolor and pencil on paper mounted to paperboard mounted to fiberboard panel
35.6 x 25.4 cm (14 x 10 in.)
Gift of Joseph H. Hirshhorn, 1966
Accession Number: 66.4450

Jpg: Hirshhorn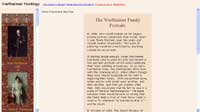 The Wertheimer paintings

Note:
Special thanks to Tony Wearing, a friend of the JSS Gallery, for finding this image down on the internet


Provenance
The Artist, London

Mrs. Arthur Ricketts, London, to 1953 (death)

[still listed in Sargent's Boston (pub. 1956) as being in her possession]

Miss Thumen Millwater, Surrey, England (1953-November 1962)

Sotheby and Co., London, sale, 21 November 1962, lot. 60.

Joseph H. Hirshhorn, New York, 21 November 1962-17 May 1966 [via Julius Weitzner and Robert Graham]

Gift of Joseph H. Hirshhorn, 1966


Exhibitions History


SMITHSONIAN INSTITUTION TRAVELLING EXHIBITION SERVICE, Washington, D.C. "Artists and Models: Portraits from the Hirshhorn Museum and Sculpture Garden." TOUR: ROBERT HULL FLEMING MUSEUM, UNIVERSITY OF VERMONT, Burlington, Vermont, 5 January-10 February 1985; GARDINER ART GALLERY, Stillwater, Oklahoma, 2 March-7 April; GRINNEL COLLEGE, Grinnel, Iowa, 27 April-2 June; ALBRECHT ART MUSEUM , St. Joseph, Missouri, 22 June-28 July; BLANDEN MEMORIAL ART MUSEUM, Fort Dodge, Iowa, 17 August-22 September; ARKANSAS ARTS CENTER, Little Rock, Arkansas, 12 October-17 November; ANCHORAGE HISTORICAL & FINE ARTS MUSEUM, Anchorage, Alaska, 7 December-12 January 1986; SNITE MUSEUM OF ART, Notre Dame, Indiana, 1 February-9 March, ALEXANDRIA MUSEUM, Alexandria, Louisiana, 29 March-4 May; PENNSYLVANIA STATE UNIVERSITY MUSEUM OF ART, University Park, Pennsylvania, 24 May-29 June; CHARLES H. MACNIDER MUSEUM, Mason City, Iowa, 13 September-19 October; UNIVERSITY OF SOUTHERN MISSISSIPPI, Hattiesburg, Mississippi, 8 November-14 December; PARKERSBURG ART CENTER, Parkersburg, West Virginia, 3 January 1987-8 February; COLORADO GALLERY OF THE ARTS, Littleton, Colorado, 28 February-5 April.

COCORAN GALLERY OF ART, Washington, DC. "Sketch Everything and Keep your Curiosity Fresh: The Drawings of John Singer Sargent," 13 February-9 May 1999.


JEWISH MUSEUM, New York. "John Singer Sargent: Portraits of the Wertheimer Family," 14 October 1999-6 February 2000, fig. 16, p. 28, cat. no. 16, p. 95.


Published References
MCKIBBIN, DAVID. Sargent's Boston (Boston: Museum of Fine Arts, 1956), p. 130.

UNSIGNED. "In the Sale Rooms: Whistler Works Fetch £10, 870," Times (London: 22 November 1962).

LERNER, ABRAM, ed. The Hirshhorn Museum and Sculpture Garden (New York: Abrams, 1974), p. 744.

COE KERR GALLERY. John Singer Sargent, His Own Work (New York: Coe Kerr Gallery and Wittenborn Art Books, 1980).

See the year in review 1911