Portrait of Ena Wertheimer:
A Vele Gonfie
John Singer Sargent -- American painter
1905
Tate Gallery London
Oil on canvas
163 x 108 cm
Bequeathed by Robert Mathias 1996
Jpg: Tate Gallery
From: Tate Gallery Display Caption
(05-Sep-2001)
This [Wertheimer portrait] is unusually lively, and shows her wearing, as a joke, the Court dress of Lord Londonderry, which had been left in Sargent's studio by another of his sitters. The portrait's sub-title refers to her billowing cloak. The first of the Wertheimer family portraits was commissioned by Helena's father, Asher, in 1898, and the rest followed at intervals.

From: The Queen: 25 June 1910
Exhibition entitled 'A Dream of Fair Women' - at Oldham Art Gallery (?)
".........Black is also painted with much cleverness. This is shown in Sargent's picture of Mrs Mathias, in G W Philpot's of Mrs Emile Mond, and in W. B. Ranken's of Mrs Brown Potter."

Ena was featured in a double portrait with her sister four years previously.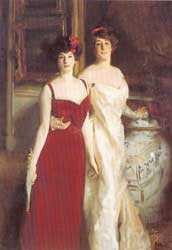 Ena and Betty, Daughters of Asher and Mrs. Wertheimer
1901
Ena would later marry her first husband Mr. Robert M. Mathias

Portrait of Robert Mathias
1913
(Husband)


From: Julian Mathias
j r m@julianmathias.co.uk
Date: Sat, 04 Dec 2004

I am the grandson of Robert Mathias and Ena (nee Wertheimer) and the great grandson of Asher Wertheimer.

I find your website fascinating, and if you would like me to try to tie up any loose ends regarding JSS's relationship with my family,
please let me know.

I have very little in the way of written material but will try to come up with something that may be of interest.
For example, the picture
A vele Gonfie
was a wedding present from Asher Wertheimer to both my grandparents. My grandmother was always short of cash and she in fact sold it in the late twenties or early thirties, and had a copy made which she hung in its normal place. When my grandfather found out he was furious, but several years later, after her death, was able to buy the portrait back from America and kept it for the rest of his life.
If I can discover any other relevant anecdotes, I will let you know.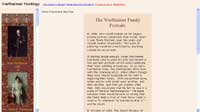 The Wertheimer paintings

Notes:
Special thanks to Wendy & Gordon Hawksley, of Sheffield, England, friends of the JSS Gallery, for sending me the exceprt of The Queen review
Exhibition History:
(special thanks to Heather Birchall
Assistant Curator at the Tate for this)
Royal Academy, London 1905, no.376
Grafton Gallery, London 'Fair Women', 1910
Corcoran Gallery of Art, Washington 'Commemorataive Exhibition by Members of the National Academy of Design', 1925 no.75 and NY, Grand Central Art Galleries 1925-6, no.302
AIC, Chicago, 1934, no.406
Washington 1964, no.68
Japan 1989, no.43
Frist Center, Nashville 'Whistler, Sargent and Steer' 2002
Forum
From: juan bejarano veiga
<juan carlosbe jarano@yahoo.com>
Date: Wed, 2 Jul 2003
Dear Natasha

My name is Juan Carlos Bejarano, and I am an art historian who is doing a research about the portrait of Ena Wertheimer. A vele gonfie, painted by Sargent in 1905, now in the Tate Britain. I wrote you long time ago, asking for information about the possible relation between Sargent and Ramon Casas, a Spanish painter of the Modernismo. Now I would be very interested in knowing when this picture was exhibited throughout the lifetime of Sargent, because I have found a replica made by a Spanish painter, so I could know when this painter could see this painting.
I apologize for my English, but I think that this information could be very important in relation to my research, and the third volume of the Sargent catalogue raisonné hasn't still released. Thank you very much!
Sincerely,
Juan Carlos
From: Natasha
I wrote the Tate gallery and Heather Birchall sent me the exhibition history back -- see above.
From: juan bejarano veiga

Thank you very much for your help. When I get my research finished, I will send you what I have found.

Sincerely,
Juan Carlos