Sargent's Women


Review by Jonathan Whitney
<jon a than_ whitney@msn.com>
Date: Wed, 26 Nov 2003


The Adelson Gallery (my first visit) was delightful with plenty of room to walk about and admire the art which is a nice change from say the MET or the MFA in Boston where you feel as if you have minimal time to study and enjoy the art because of the crowds. The display is on two floors which keeps the patrons from all gathering in one area

Upon arrival you can sign the guestbook and pickup a 5x7 card with the JSS portrait of Lily Millet on the front which is one of my favorite portraits...so elegant is the subject.



I would have to say that the Antonio de la Gandara portrait of Virginie Amelie Gautreau just took my breath away. It is hanging in a side room and it is the first thing that attracts your attention as you enter the room. It is large (almost floor to ceiling) and the magnificent satin ball gown that she is wearing has her trademark straps with a train. She is holding a fan made of feathers and the profile with her upswept hair is classic. She preferred to be called "Amelie" since both her mother and grandmother were also named Virginie.



There are numerous paintings of Violet Sargent throughout her life and also of Emily. Also noted many portraits of a girl named Rosina. I guess she was one of JSS favorite models during his time in Italy? [Editor's note -- Yes when he was in Capri] and of course many other society beauties like Mrs. Wilton Phipps, etc.

From: Andy Holzopfel
<drew draws @ comcast.net>
Date: Thursday, December 4, 2003
The show at the Adelson was fantastic, I really like these works as they were done for pleasure, not money.


Back to Sargent's Women Exhibition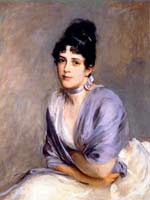 Lily Millet (46)


Antonio de la Gandara
French painter (1861-1917)


Madame Pierre Gautreau
1898