Etching of Villa di San Donato (mislabeled Villa Domidoff)
c. 1820's
Unknown artist
Jpg: Alexandre G. Tissot Demidoff
From: Alexandre G. Tissot Demidoff
Count Nicholas N. Demidoff commissioned to have Villa di San Donato built after acquiring a large swamp-infested tract of land north of Florence from the Catholic Church and the priests of Santa Croce.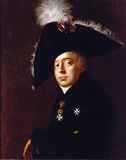 Count Nicholas N. Demidoff (1773-1828)
The Villa di San Donato located in Polverosa, Italy was no simple Villa but a principality that included rivers, lakes, farmland, churches, a silk factory, as well as eventually a zoo, gardens, and a railway that was all crowned by a sumptuous palace.
Construction of Villa di San Donato was started in 1822 and assigned to the architect, Giovan Battista Silvestri, who is also responsible for the Uffizi Palace in Florence. Giovan Silvestri placed the first stone in San Donato on 27 June 1827. By 1831 the immense palace was completed and housed Count Demidoff's eclectic collection of
minerals, paintings, armoury, and classical sculpture in specifically devoted rooms. A cupola richly painted in 1827 by Domenico Morelli surmounted the ballroom.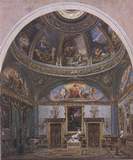 Painting depicting the cupola of the Villa di San Donato
1841
Count Nicholas died in 1828 leaving Villa di San Donato to his two sons, Paul and Anatole. Upon both of their deaths it went to Paul's son Prince Paul P. Demidoff,
The villa was destroyed during World War II and no longer exists.
Alhough the print of the etching (above) shows "Villa Domidoff" from the caption, it is actually the Villa di San Donato from the time of Count Nicholas, so this would be from 1820's.
Notes:
John Singer Sargent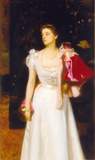 Princess Demidoff
(Helene Petrovna Demidova,
Princess of San Danto -- 1853-1917)
1895-1896