Museum of Fine Arts at Copley Square

Photo first location

Jpg: MFA

(See interactive zoom at the MFA)



The original location of the Museum of Fine Arts, Boston was located on Copley Square, at an angle from the future location of the Boston Public Library (1890). It was finished in 1876.

There were expansion projects in '79 and '90 but by 1899 it had outgrown its site for any possible future expansions, so the Trustees built the new building on Huntington Ave.

The old site is now the site of the Copley Plaza Hotel.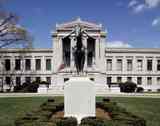 Museum of Fine Arts, Boston
Huntington Ave

Notes: