Ruth and Carl J. Shapiro Rotunda and Colonnade
Museum of Fine Arts, Boston
Murals and sculptures
Photo
Jpg: local
The viewer is facing the Library from the top of the Grand Stairs. You don't quite get the depth of this space as you are only seeing the far sets of pillars. But notice also the Bas-Reliefs which go along with the ceiling decorations -- they don't show up well in the other photographs.

Now if the viewer were to turn around they would see the Rotunda as pictured below.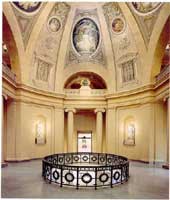 The Rotunda
From the top of the Grand Stairway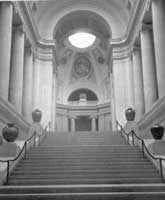 Grand Stairway
Looking up towards the Rotunda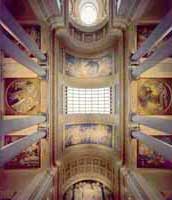 Stairway Ceiling Decorations
Looking straight up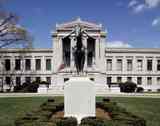 Museum of Fine Arts, Boston
Notes: