Campanile
(kämpän´l) the name derives from the Italian word for bell and means "bell tower". They were constructed in connection with a church or town hall and served as a belfry, watch tower, and often functioned as a civic monument. Generally they are free-standing and detached from the church.
Originating in the 6th century, the campaniles were the earliest church towers in Europe and were generally circular in shape (such as the later Leaning Tower of Pisa, 1173) but more often the square kind became most common.
This campanile, built in the 10th century, is the tallest structure in Venice at 99 meters (or 325 feet) tall. It also served as a lighthouse to the ships coming in.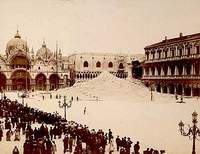 In July, 1902, the whole thing collapsed. Luckily it didn't cause any damage to the Bacilica

or the Libreria

(the Logetta

faired less well). While Sargent was there beyond 1902, his paintings show the noteable absence of the tower.
It was subsequently rebuilt -- not sure exactly what year.
"Inside the tower there are 5 large cast iron
bells. Each has a name and a purpose; Marangona rang mornings and evenings at the beginning and end of the work day, Maleficio rang for capital executions, Nona rang at the 9th hour, Trottiera called magistrates to meetings in the Palazzo Ducale

, and the bell of Pregadi called senators to the Palace."
(History and Curiosity)
Notes: