Bridge of Sighs
Jpg: Unknown

Views of the Palazzo Ducale
The Bridge connected the Palazzo Ducale with the prison. The convicted prisoners would take their last steps of freedom across the bridge and it was said you could hear the crying of their lovers below. And from this, the bridge gets its name: the Bridge of Sighs.
Ralph Curtis painted this exact scene in one of his works: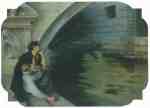 The Bridge of Sighs
Ralph Wormeley Curtis (1854-1922)
John Sargent would paint the bridge in watercolors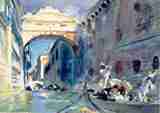 Bridge of Sighs
1904
John Singer Sargent
The bridge was built around 1600, significantly after the Council of Ten and the advent of the secrete state police, but it has always been associated, especially today, with a symbol of that period -- though be it belated.
Notes: