John Singer Sargent's letter
I have included the image of the letter head at the highest resolution.
I just can't do very well at making it out. Below is Don Kurtz's attempt (in black), Kathie Roskom's additional help (in purple)
<dkr oskom@hotmail.com>, and Brian Smith attempt (in green).

June 17th

Dear Mrs._____,

Please accept my most hearty thanks for that venerable old document. I think in time I shall hand it over to the collection of relics at Gloucester where it will be permanently in safe keeping - as it desrves to be.

yours sincerely
John S. Sargent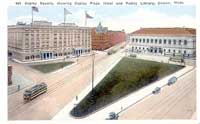 Copley-Plaza Hotel and Boston Public Library
1925
The Copley-Plaza Hotel was where Sargent often stayed when he was in Boston. It's located across (at an angle) from the Boston Public Library and was built on the site of the old Museum of Fine Arts. The only references I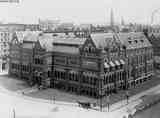 could find about Copely Plaza (not sure if they are the same or not -- probably not) was in Olson's book, page 220, "In February 1899 he was given his first comprehensive show at Copley Hall in Boston; 110 works -- fifty-three oils, sixty drawings, and fourty-one sketches -- an almost unknown honour for a living painter." There is another account of him staying at the Copley-Plaza in Mary Newbold Patterson Hale's article called "The Sargent I knew: A Musical Genius Spoiled"

Forum
Subject: Hand written letter from Sargent
From: Don Kurtz (Much aDon@aol.com)
Date: 6/29/2000

Nat,
I have a hand written letter from Sargent, would you want to see it?
In looking over the list of Sargent's portraits - I see other painters whose portraits I need pictures of to go with their letters - Francois Flameng, Alma-Tadema, and Ernest Duez. If you ever see any of them on line please let me know. I'll be glad to send a copy of the Sargent letter. How about JPG?
Date: 6/29/2000
I have 1100 hand-written letters and original drawings from painters, illustrators, cartoonists, and sculpturs. The painters start about 1720 and run up to about 1940. It's my personal collection. Many have drawings on the letters. I will try to read the Sargent letter and you can see what you are missing - between us maybe we can get the whole thing. How they have such steady hands with a brush and be so lousy with the pen? The letter is not dated but I can figure something from the content. Each of my letters has a photo or portrait of the artist (when I can find them). With each I have my favorite examples of their work. My main interest and collection are (original issue only) lithographs, menus, programs, magazine covers, letters etc. of Alphonse Mucha. I got into the autograph letters sort of by accident 20 years ago. Collectors are a little nuts. Will get back to you in a day or two.
Don

From: Brian Smith
(briand w smith@westlake36.freeserve.co.uk)
Date: Wed, 12 Feb 2003
Don - I am confident that the two missing words in your letter are "relics" and "Gloucester". My thoughts are backed up by the fact that the historic Sargent-Murray-Gilman-Hough House Association is located at 49 Middle Street, Gloucester, Massachusetts. It was built in the 18th century and houses exhibits of portraits, antique furniture and furnishings, and Georgian architecture.
I also read the word as Gloucester before I discovered the above connection, which is listed as the location of at least two of Sargents portraits in the book "John Singer Sargent" by Carter Ratcliff, published by Abbeville Press in New York. (By the way, I live in the U.K where the name Gloucester originated). The other word "relics" also makes good sense in the above context. I regret I can't help with the year, but I would suggest that the month is June rather than the abbreviated Jan. I base this purely on close examination of his writing in the letter.
Finally what a wonderful collection you appear to have - and what an excellent web-site Natasha operates. I have only just discovered it - as a great enthusiast of both Sargent and Boldini it is a real joy. Like another correspondent I am still seeking a book on Boldini. In the meantime I was delighted to find no less than 77 examples of his work on Natasha's site. I had never previously seen more than 12 - and that was a calendar I tripped over some years ago.
Best wishes
Brian Smith

From: Kathie Roskom
(dkro skom@hotmail.com)
Date: Wed, 12 Feb 2003
Say, perhaps an obvious question - have you checked with the Copley Plaza to see if they could identify the year? They might keep a record of logo/stationery changes.
-Kathie
From: Natasha
No I haven't. What a great idea