Studio di mano par Madonna delle Arpie
(Study of Hand Study for Madonna delle Arpie)
1517 ?
Andrea del Sarto, (1486-1530) Florentine painter
Galleria degli Uffizi, Florence, Italy

Carbon (Pencil) Drawing
27 X 21 cm
Uffizi 628 (bars 88)

Jpg: Andrea Costa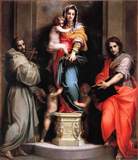 Madonna delle Arpie
(Madonna of the Harpies)
1517

See John Singer Sargent's drawing in Juxtaposition:

Andrea del Sarto
Florentine painter (1486-1530)



Preparatory Study




Close-up of finished hand from Madonna delle Arpie



John Singer Sargent
Notes

Special thanks to Andrea Costa, of Italy, a friend of the JSS Gallery, for sending me this image

From: Andrea Costa
cos t and@tin.it
Date: Jan 11, 2006

Enclose is the description of the drawing taken from the book where I found the image [copied and annotated above], together with the cover and the frontispiece of the same book, dated 1962.

Frontispiece:

I Grandi Maestri Del Disegno
Andrea Del Sarto
Testo di Luisa Becherucci
Aldo Martello Editore - Milano.


The Great Masters of Drawing
Andrea Del Sarto
by Luisa Becherucci
Aldo Martello Publisher - Milan.

Cover: