Joan Powell
(later Joan Powell Jackson)
Elinor M. Barnard - English watercolorist
1939 - New Orleans De Soto Hotel
Private collection
Watercolor
(18 x 12 1/4 in)
Signed and inscribedTo Mr.& Mrs Powell, Elinor M Barnard
jpg: local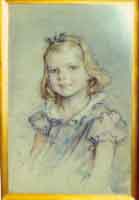 Jean Powell
1939
(Sister to Joan Powell)
From Joan Powell (Jackson)
(joan jackson @ jssgallery.org)
Date: Tue, 1 Jun 2004
I was 8 years old and my sister 7. Our birthdays were in Feb. The paintings are dated 1939 and we left New Orleans in June of 1939 so they were painted in that frame between Jan to June.
I don't remember asking my parents about her until I was an adult. Mother said that she had asked to paint us-gratis because she needed additional pictures to fill the space for an exhibit (although I may be remembering that incorrectly -- I'm searching public records for it). I remember her being English and I remember her as being "old" --- I now know she was 68.
Also, she might have been there as a teacher (see the New York Times obit). There was one, (maybe two), student in the back of the room drawing us as Elinor painted. She would put her brush down every so often and go over to take a look. Jean, my sister, reminded me that she always had a little chocolate bar wrapped in gold foil for us when we went up to her room. We would sit on a small oriental rug on top of the 3 drawer dresser. Jean fussed about the rug being scratchy. Elinor did me first and then Jean. Jean balked every day she had to go up to the room so Elinor told her she would draw Charley McCarthy's picture if she would "behave." I don't know what happened to Charley's picture, but I have a picture of me and Jean in front of the ruins of the Versailles mansion at Chalmette both trying to hold Charley. Jean's portrait is unfinished as her hair is not braided and her dress in not finished. Mother said Elinor ran out of time. I was always "Miss goody-two-shoes" and Jean was the "imp" Elinor caught that.
The De Soto Hotel, where she was staying and where we lived, was a downtown hotel about 3 blocks across Canal Street from the French Quarter. It is now called Le Pavillion on the corner of Baronne and Poydrus. It was built around 1885 and considered quite elegant at the time and even more so now that it has been renovated. The train station was and is several blocks down Canal Street (towards the river). The hotel was owned by the Levert family who once entertained us at their Rienze Plantation on River Road -- it is probably still there. The De Soto was both a business hotel, a social hotel in that debutante parties etc. were held there, and a permanent guest hotel. In "those days" hotels took in permanent guests which helped with the occupancy rate during the depression.
It is just a guess on my part that Elinor was there to paint portraits of the children of the "prominent people" -- just as her aunt had earned her living in England and Sargent his living. When I started this search I thought she had come into the port of New Orleans on her return from South America stopping for a time to seek commissions before going on to New York. But, there is no record of her entering the port. And, in 1938 she had loaned her bungalow in Redgefield, Connecticut to Molina Campos and Camilo Mori-both famous South American artists.
It is possible she had been in New Orleans in earlier years. Komroff, her husband or ex-husband by the time she painted me, was a friend of Tennessee Williams and Eugene O'Neill. I am certain Elinor knew O'Neill and O'Neill visited with Williams in New Orleans. But that theory requires more research.
In reviewing all of this I think she probably loved children. Jo Osbun sent me a copy of an interview from the Savannah paper. I will get that to you. I also have two letters Elinor wrote to clients - I will get permission to copy those and get them to you. One in particular is fascinating. It is about the Bibesco baby.
I remember going with Mother to the Paint and Framing store in San Angelo to have the pictures framed-antiqued gold leaf. We also lived in the Cactus hotel in San Angelo [1]. A few times people would come up to the apartment to see our "portraits."

Notes
Special thanks to Joan Powell Jackson, of San Antonio, Texas. but originally from New Orleans (and sitter in this painting), for being a friend of the JSS Gallery, and for sending the photo of this painting along with information

1) The Cactus hotel was one of Hilton's creations. My father worked for the National Hotel Company which took over management of the De Soto hotel. William L. Moody, of Galveston, TX. bought and operated 27 hotels in this country. In fact, Conrad Hilton had built 5 hotels in Texas in the 1920s. He lost them during the Depression. Moody took over his debts with Hilton going to work for Moody as General Manager of the Hotels. But, Hilton couldn't work for someone else so he quit in about 1936, went to Chicago and made his fortune all over again. The De Soto, now Le Pavillion, was featured on the TV program "Historic Hotels of America."