Giovanni Boldini's A Portrait of John Singer Sargent (Frontpage) (more on Giovanni Boldini) (Thumbnail Index) (What's new)


A Portrait of John Singer Sargent

Giovanni Boldini -- Italian-French portrait painter

c. 1890's?

Private collection

Oil on panel

27 x 22 cm (10.63 x 8.66 in.)

Jpg: Art Renewal Center

(Click on image to Step Closer)

A portrait of a young rising artist: John Singer Sargent looking quite dapper in evening wear.

Notes
I am grateful to G.W. and W.D. Hawksley of Sheffield England, both friends of the JSS Gallery, for letting me know about this image on the net.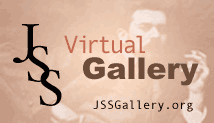 By: Natasha Wallace
Copyright 1998-2004 all rights reserved
Created 4/2/2002