Henry Petty-Fitzmaurice, 5th Marquess of Lansdowne
Philip Alexius de Laszlo -- British painter (1869-1937)
1920
National Portrait Gallery, London
Oil on canvas
91.6 x 61 cm (36 in. x 24 in.)
Jpg: Friend of the JSS Gallery
The 5th Marquess was the Viceroy of India and Foreign Secretary.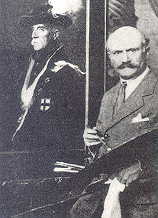 de Laszlo with his painting of the
5th marquess of lansdowne
1920
(photo ran with an article for Time Magazine, 1932)

John Singer Sargent painted his daughter, Lady Evelyn Cavendish in 1902.

John Singer Sargent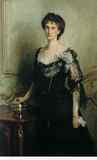 Lady Evelyn Cavendish
(Daughter to Henry Petty-Fitzmaurice)
Notes
Also featured in the article "Some Paintings and Drawings by Mr. P.A. de Laszlo," The Studio, Vol. LXXXI No. 335 (February 1921), p. 44.