Lady Evelyn Cavendish
John Singer Sargent -- American painter
1902
The Duke of Devonshire and
the Chatsworth house Trust
Oil on Canvas
147.5 X 91.5 cm
Signed and dated upper left John S. Sargent 1902
Jpg: Friend of the JSS Gallery
Born Lady Evelyn Fitzmaurice, daughter of the Fifth Marquess of Lansdowne, in 1892 she married Victor Cavendish. When Victor's uncle the Duke of Devonshire died childless in 1908, Victor and Evelyn succeeded as Duke and
Duchess of Devonshire.
Philip Alexius de Laszlo
British portrait painter, 1869-1937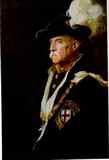 Henry Petty-Fitzmaurice, 5th Marquess of Lansdowne (1845-1927)
1920
(Father to Lady Canendish)

Notes:
The Portrait of a Lady: Sargent and Lady Agnew, by Julia Rayer Rolfe, with David Cannadine, Kenneth McConkey, and Wilfred Mellers. It was published by the Trustees of the National Galler of Scotland as the catalogue for the exhibit of the same name which was held there 8 August-19 October 1997.
See the year in review 1902