Philip Alexius de Laszlo's Mr. N. L. Cappel
(Frontpage) (Thumbnail Index) (more on Philip Alexius de Laszlo) (What's New)


Mr. N. L. Cappel
1933
Philip Alexius de Laszlo -- British painter (1869-1937)
Private colelction
Oil on Canvas
82.5 x 60.3 cm (32 ½ x 23 ¾ in.)
Signed and dated l.r. de László 1933
Sitters Book Vol. II p 76 N. L. Cappel Sep. 16th 1933


Jpg: Christies




Notes
Special thanks to Matt Davies, from Kansas City, a friend of the JSS Gallery, for the link to this painting.



Provenance



Offered, but not sold by Christie's, South Kensington, Twentieth Century British Art, May 11, 2005, Sale No. 5611, lot 47, with an estimate of £3,000-5,000.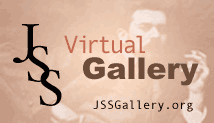 By: Natasha Wallace
Copyright 1998-2005 all rights reserved
Created 5/9/2005