A Lady

John Singer Sargent -- American painter

1880
Private collection of A.J. Kollar Fine Paintings, Seattle, Washington


Oil on wood panel

35.60 x 27.90 cm (14 x 11 in.)

Signed and dated lower right
Inscribed lower right: To my friend Ben

Jpg: artnet.com & Colleen Kollar Zorn

Notes
Special thanks to Colleen Kollar Zorn, with A.J. Kollar Fine Paintings LLC, of Seattle,
Washington USA, a friend of the JSS Gallery, for sending along a better image.

See the year in review -- 1880

Forum

"A Lady" 1880 Sold by a Museum?
From: B cca esq@aol.com
Date: 10/10/99

I was wondering whether you could direct me to more information on John Singer Sargent's "A Lady". I've tried to track it down a number of ways, and found out it was in the Nelson-Atkins Museum of Art in Kansas City, MO, but that's all I know. I am trying to find out the name of the woman, and information on who she was. Any help would be greatly appreciated.



From: Natasha

Boy, that's sure news to me. I live close to the Nelson-Atkins Museum of Art and I didn't know they had it.


[later]


Apparently it WAS owned by the Nelson, but they have since sold it. A book at the Nelson Atkins book store tells that the painting is inscribed with Sargent's hand: "To Ben del Castillo" a childhood friend of Sargent's. He would paint Ben's wife, Countess Laura Spinola Nunez del Castillo, in 1896. The book only said that the identity of the lady was never discovered.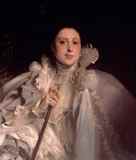 Countess Laura Spinola Nunez del Castillo
1896
(wife to Ben del Castillo)



From:

Colleen Kollar Zorn


co ll een@ajkollar.com
Date: Wed, 27 Oct 2004

[Natasha, "A Lady" is now] in the private collection of A.J. Kollar Fine Paintings, Seattle, Washington