Frieze of the Prophets (Study)
Boston Public Library Murals
John Singer Sargent -- American painter
c. 1892


Museum of Fine Arts, Boston


Oil on canvas
56.2 x 71.12 cm (22 1/8 x 28 in.)
Gift of Mrs. Francis Ormond
37.45
Jpg: MFA

(See more at the MFA)

Frieze of Prophets




As John works at Morgan Hall (with Abbey) he toys with different conceptual ideas for his Library decorations. This particular Prophet study shows him wrestling with the arrangement. The demonstrative arms flailing upwards would indicate this was an early study for the "Despairing Profits" -- four in this case -- what would later become Zephaniah, Joel, and Obadiah (thumbnail). You can see that the left Prophet (above) is not despairing (a Prophet of hope) so it would appear that early on he was intending to mix these figures somewhat within groupings.

Also, it appears that he may have been working with an idea of putting them on the East wall (whereas the finished Zephaniah et al ended up on the West wall) -- that is, if the lone Prophet of hope was to be on the inside. Or maybe the whole notion of a lone Prophet on the outside not working was the reason he abandoned this idea.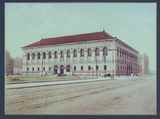 The Boston Public Library
Notes:

Provenance:

Provenance/Ownership History: The Sargent Collection, gift to MFA October 4,1928