Claude Monet Painting
John Singer Sargent -- American painter
1885? [1]
Tate Gallery, London
Oil on canvas
54 x 64.8 cm (21 1/4 x 25 1/5 in.)
Presented by Miss Emily Sargent and Mrs Ormond through the National Art Collections Fund 1925
N04103
Jpg: Tate Gallery, London
When Sargent arrived in Paris to formally study painting in 1874, it was the same year of the Monet was showing at the Exhibition of Independents and was nine years after the scandalous exhibition of Edouard Manet's Olympia. By 1885-1887 (as the exact date of this painting is in question) the Impressionist moment was in full swing. Though John refused to wed himself in total to the Impressionist, his heart was clearly excited by the revolutionary implication and changes that impressionism brought.
Although he did not join them, in his private moments and when he was painting for himself or friends such as this painting: Claude Monet Painting, he simply loved impressionism and he simply loved painting in Plein Air.



Meadow with Haystacks near Giverny
1885


This particular painting shows Monet working on what is thought to be Monet's "Meadow with Haystacks near Giverny" which, if that is correct and if Monet's painting is dated right, pretty clearly pegs the date of Sargent's painting. A juxtapotition of the two shows strong similarities. Resting behind Monet on the grass may be Alice Hoschedé (painted by Carolus-Duran in 1878) whom had been living with Claude Monet as a couple after she left her husband Ernest Hoschedé. The two would eventually be married in '92, a year after her husband's eventual death.

* * *

For Sargent, these Impressionist influences along with his close friendship with Monet and others effected how he viewed the art of portraiture and for the longest time the British thought his work far too "French". It wasn't really until the Americans embraced him that he began to once again gain notice in England.
Some time around 1911, Fredreck Jameson wrote a book on Modern Art which included, of course, Monet. Sargent having read the book was was quick to comment. He simply hated talking about his own work and preferred it to just stand on its own and without comment. However, Sargent was always ready to defend his friends' art and loved to discuss it at great length with others and he commented in a letter to the author since it concerned, at least in part, his dear friend Monet.

31, Trite Street
Chelsea, S.W
March 20th (1911 or 1912)

My dear Jameson,

I have been reading your book with great enjoyment, and feel as if my ideas and my vocabulary had gone through a very satisfactory spring cleaning and I like the opposition of your clear processes of reasoning and analysis as far as that will take one and the ultimate mystery that you lead one up to form the different directions.

There is one point only that I should quibble at and that is your use of the word Impressionism and Impressionist.

These words were coined in Paris at a particular moment when Claude Monet opened the eyes of a few people to certain phenomena of optics, and they have a very precise meaning which is not the one that you use them for, so that in the exact sense or to the Frenchman Watt's saying "All art is Impressionism" would be a misuse of the words.

"Impressionism" was the name given to a certain form of observation when Monet not content with using his eyes to see what things were or what they looked like as everybody had done before him, turned his attention to noting what took place on his own retina (as an oculist would test his own his own vision).

It led to his doing 50 pictures of the same subject under varying degrees of light and the phenomena which he recorded would be more or less apparent when there was excess or deficiency of light and the fact that he is astigmatic accounts for his having an excellent subject for his own discoveries in this line.

A person with normal eyesight would have nothing to know in the way of "Impressionism" unless he were in a blinding light or in the dusk or dark.

If you want to know what an impressionist tries for (by the way Degas said there is only one Impressionist "Claude Monet") go out of doors and look at the landscape with the sun in your eyes and alter the angle of your hat brim and notice the difference of colour in dark objects according to the amount of light you let into your eyes -- you can vary it from the local colour of the object (if there is less light) to something entirely different which is an appearance on your own retain when there is too much light.

It takes years to be able to notice this accurately enough for painting purposes and it would only seem worth while to people who would wear the same glasses as the painter and then it has the effect of for the first time coming across a picture that looks like nature and gives the sense of living -- for these reasons Monet bowled me over -- and he counts as having added a new perception to Artists as the man did who invented perspective.

This observation or faculty does not make a man an Artist any more than the knowledge of perspective does -- it is nearly a refining of one's means towards representing things and one step further away from the hieroglyph by adding to the representation of a thing the conscious Will of Medium through which one sees it.

One of these days some genius will turn it to account and make it part of the necessary equipment of an Artist.

For the present in its exact sense "impressionism" does not come within the scope of your considerations. Of course I agree with what you say, give the rough and tumble and un-Jameson like use of the word.

You can make impression stand for whatever you like but not add -sm or -ist without being challenged by the astigmatic.

Yours sincerely,
John S. Sargent.
(letter to Jameson, Charteris , P123-124)
When Evan Charteris was preparing his biography on Sargent, he sent a copy of JSS's letter to Monet requesting confirmation of Sargent's views. It should be noted when you read Monet's response that a literal reading without the delicate understanding of a gentleman's modesty might lead to a wrong impression -- for though he dose not "approve" of John's views, he likewise does not refute them.

To Evan Charteris
June 21, 1926

Dear Sir,

Forgive me for not having replied earlier but I am still not very well and still can not write to you myself.

Furthermore, I can only confirm what i told you in our last interview. After having carefully reread your letter and the copy of the one from Sargent, I admit that if the translation of Sargent's letter is accurate, I can not approve it, firstly because he makes me out to be greater than I am, then because I have always felt a horror of theories, and lastly because all I have is the merit of having painted directly from nature, while trying to pin down my impressions before the most fleeting of effects, and I am very sorry to have been the cause of a name given to a group the majority of which had nothing to do with Impressionism.

With all my regrets at not having been able to give you complete satisfaction, I remain yours sincerely,

Claude Monet

Letter to Evan Charteris
(The Impressionists and Their Legacy, Barns & Nobel Books, P. 320)


From: Tate Gallery Display Caption
(08-Aug-2001)

Sargent first met Monet in 1876, but the two artists were closest ten years later. It was probably in 1885 that they painted together at Giverny, near Paris. Sargent admired the way that Monet worked out of doors, and imitated some of his subjects and methods in sketches such as this. It is characteristic of Sargent to give a human view of Monet's practice and of the patience of his wife, who sits behind him. When he settled in London in 1885 Sargent was initially viewed as avant-garde, but came to be the greatest society portraitist of his day.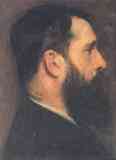 Portrait of Claude Monet
1889

In 1889 John paints this profile portrait of Monet probably in Paris when they were at the Salon.




Notes:


Exhibitions

Impressionism Abroad: Boston and French Painting: Royal Academy of Arts, London; Norton Museum of Art, Palm Beach, FL; 2005-2006



1) Date of Painting
There is a bit of confusion as to the date of this painting and when Sargent exactly painted at Giverny. Some sources have it 1887 (where there is definitive evidence of Sargent being there) and some place it earlier in 1885. The strongest reason for the 1885 date falls to the evidence of Monet's painting "Meadow with Haystacks near Giverny," the similarity of composition in Sargent's work and letters of Monet mentioning Sargent's name to his companion Alice Hoschedé. The date of Monet's painting, however, is itself not concretely known to be 1885 though it has been sited as such in Daniel Wildenstein, "Monet: catalogue raisonné" (1996).