Daphne
John Singer Sargent -- American painter
1910
Museum of Fine Arts, Boston
Watercolor on paper
53.3 x 40.6 cm (21 x 16 in.)
The Hayden Collection—
Charles Henry Hayden Fund 12.230
Jpg: museumreplica.com
From: Stephanie (John Singer Sargent's Exotics)
Date: July 2000
Natasha, I couldn't find a lot of info on Daphne on the internet, so I read a few books on the artist, and only one book really talks about it in detail.
Like the Villa Marlia series, the statue of Daphne was painted while Sargent was staying at the Marchese Farinola at the Villa Varramista on the outskirts of Lucca in Autumn 1910.
(Richard Ormond; John Singer Sargent, p.225)

***

[The statue itself] is one of several allegorical sculptures decorating the lower part of the Villa Garzoni at Collodi, on the road between Lucca and Florence.
(Richard Ormond; John Singer Sargent, p.225)
See Ya!

Stephanie

From The Columbia Encyclopedia, Sixth Edition:
Daphne (df´n

), in Greek mythology, a nymph. She was loved by Apollo and by Leucippus, a mortal who disguised himself as a nymph to be near her. When Leucippus betrayed his sex while bathing, the nymphs tore him to pieces. Apollo then pursued Daphne, who prayed to Gaea for aid and was changed into a laurel tree.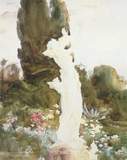 Garden Fantasy
I'm a little confused about this particular painting (thumbnail called "Garden Fantasy). Apparently, he painted a second version. I found this image at "askart" site which was sold in 1998 and is held in a private collection. He had in the past painted more than one copy of the same thing but those were generally for oils.


Notes:
See the year in review 1910
The painting is at the Museum of Fine Arts, Boston