David in Saul's Camp

John Singer Sargent -- American painter

date?

Private collection

Oil en grisaille on canvas

44.5 x 64.1 cm (17½ x 25¼ in.)

Jpg: Christies


This painting goes along with the drawing at the Museum of Fine Arts, Boston. Neither one date either work, though I wonder if maybe he might have done this on his second trip to the middle east in 1905-06?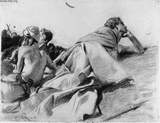 Reclining figures David in Saul's Camp
Date?
Charcoal on paper

Provenance
- Collection of the artist.
- Christie's, London, England, Pictures and Drawings of the late John Singer Sargent, R.A., July 24 and 27, 1925, lot 212, as A Shepherd Looking Out.


Notes:
Sold at Christies, Mar 04, 2003; Lot Number 46, Sale Number 1205, $50,190 U.S. dollars