Francois Flameng and Paul Helleu

John Singer Sargent -- American painter

1882-85

Private collection

Oil on canvas

53.3 x 43.2 cm (21 x 17 in.)

Jpg: local source

(click on image to step Back)


By the time Sargent painted Francois Flameng (1856-1923) with his friend Paul Helleu behind, he was an already accomplished French painter. Francois was known for his genre, scene, and portrait paintings, and later known also for his powerful illustrations of the Great War.

His father Leopold was an engraver and so he became exposed to art at a very young age. Francois studied at the Ecole des Beaux-Arts and at the atelier of Cabanel. His first submission to the Paris Salon was in 1875 (at the age of 19) with the painting "le Lutrin" (a church musical stand with a singer). Shortly after he was drafted into the army which briefly postponed his career. This later served him well for his empathy of the solder during WWI when he became an official war artist for France.

In 1889 he won the Prix du Salon (the Grand Prize) during the l'Exposition Universelle for his "l'Appel des Girondins" (The Call of the Girondins) - a scene depicting the last breakfast in prison of the Girondins before their call to execution.

He later became a professor at the academy of Fine Arts and honorary president of the (french) Society of Military Painters.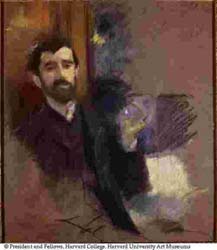 Portrait of Paul Helleu
c. 1885-1889


Notes:


Exhibitions

John Singer Sargent, An Exhibition

-- Whitney Museum, NY & The Art Institute of Chicago 1986-1987




The Girondins were moderate revolutionaries during the newly formed Legislative Assembly (1791), but they were ousted by the more radical Jacobins in 1793. Many of the Girondins were executed.

The painting would have great appeal given the Exposition Universal of 1889 was in celebration of the one hundred year anniversary of the French Revolution.


Philip Gilbert Hamerton "Types Of Contemporary Painting. VII. The French In Holland," July, 1894, Scribner's magazine. / Volume 16, Issue 1, pp. 63-68