A Venetian Woman in a Scarlet Shawl ("Gigia Viani")
John Singer Sargent -- American painter
1880
Fogg Art Museum, Boston
Oil on canvas
34.29 x 26.67 cm., actual
label: back of stretcher, ink?, u.l.: John S. Sargent 1880: Head of a Sicilian Girl/Painted by John Singer Sargent, N.A., R.A./(born 1856-died 1925)/Signed above, John Singer Sargent, and dated 1880/Formerly in the collection of the late Burton Mansfield, New Haven, Conneticut/Formerly in the collection of the Lei
Bequest of Grenville L. Winthrop, 1943.149
Jpg: Harvard University Art Museums
A full length portrait of Gigia Viani was painted in 1882:
Ralph Wormeley Curtis (1854-1922) American painter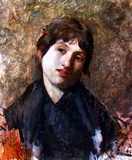 Gigia Viani
1880
Notes:
Bibliography
Richard Ormond, John Singer Sargent: Paintings, Drawings, Watercolors (New York and London, 1970), p. 29
John Singer Sargent, His Own Work (New York, NY, 1980), in checklist, unpaginated
Patricia Hills, John Singer Sargent, exh. cat., Whitney Museum of American Art (New York NY, 1986), p. 64, fig. 38, reproduced in b/w
A Painter's Painting: John Singer Sargent's "A Spanish Woman (Gigia Viani)", auct. cat., Pyms Gallery (London, England, 1998), p. 12, fig. 6, reproduced in b/w; text p. 7
Exhibitions
Loan Exhibition of Paintings, Carnegie Institute, Pittsburgh, 01/01/1911 - 12/31/1911
Provenance
Sargent, John Singer (Creator). Created 1880-1882, Gift to George Henry Boughton?.
Boughton, George Henry (Owner). Gift of the artist?, Sold by Boughton's widow at Christie's, London Jun 9 1906.
Fifth Avenue Galleries (Dealer)., Sold to B. A. Collins 1906.
Collins, B. A. (Owner). Purchased from Fifth Avenue Galleries 1906.
Leicester Galleries (Dealers)..
Mansfield, Burton (Owner)., Sold at Anderson Galleries, NY Apr 7 1933.
Scott and Fowles (Dealer). Purchased from Mansfield sale at Anderson Galleries Apr 7 1933, Sold to Grenville L. Winthrop Mar 26 1934.
Winthrop, Grenville L. (Owner). Purchased from Scott and Fowles Mar 26 1934, Bequest to Fogg Art Museum 1943.