Gladys Vanderbilt
John Singer Sargent -- American painter
1906
Private collection
Oil on canvas
152.4 x 96.5 cm (60 x 40 in.)
Inscribed: (Lower right:) John S. Sargent/1906

Jpg: .the-athenaeum

Gladys Moore Vanderbilt (27 August 1886 – 29 January 1965) was seventh and youngest child of Cornelius Vanderbilt II, the President and Chairman of the New York Central Railroad. Gladys grew up in the family home on Fifth Avenue in New York City, and their summer cottage, The Breakers in Newport, Rhode Island.

Richard Morris Hunt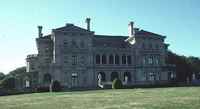 "The Breakers" Newport R.I (1893)
Cornelius Vanderbilt II's summer cottage

She married Hungarian Count László Széchenyi on 27 January 1908 in New York becoming Countess Széchenyi.

Glady's first cousin was Consuelo Vanderbilt, duchess of Marlborough. She died in 1965. Her daughter, Countess Sylvia Szapáry maintained a residence at her grandparents' summer cottage, The Breakers until her death on March 1, 1998.

She had daughters Cornelia, Alice, Gladys, Sylvia and Ferdinandine Szechenyi.

Her title name was:
* 1886-1908: Miss Gladys Moore Vanderbilt
* 1908-1938: Countess Gladys Széchenyi
* 1938-1965: The Dowager Countess Széchenyi
(Wikipedia)

Description:
Three-quarter-length standing portrait of Gladys Vanderbilt (1886-1965) leaning on a stone balustrade. She wears a white dress with blue sash. A landscape is in the background.
(SIRIS)
Note:

Provenance:
Formerly in the collection of Vanderbilt, Cornelius, II, Mrs., until 1934.
Szechenyi, Countess, until 1965.

Exhibitions:
National Academy of Design Eighty Fourth Annual Exhibition, National Academy of Design, New York, 1909, no. 227.

Bibliography:
Ormond, Richard and Elaine Kilmurray, "John Singer Sargent: complete paintings; volume 3, The later portraits," New Haven, CT: Yale University Press, 2003, no. 508.
McKibbin, David, "Sargent's Boston," Boston, Museum of Fine Arts, 1956.

Illustration:
Ormond, Richard and Elaine Kilmurray, "John Singer Sargent: complete paintings; volume 3, The later portraits," New Haven, CT: Yale University Press, 2003, pg. 165.

SIRIS IAP 81690414


See the year in review 1906