Duke of Marlborough Family
1905
Duke of Malborough collection,
Blenheim Palace
Oxfordshire, England
Oil on canvas
332.7 x 238.8 cm (131 x 94 in.)
Jpg: Historical boys clothing
Major construction going on here
John was commissioned to paint a portrait of the 9th Duke of Marlbourough family that would serve as a pendent to the family portrait of the 4th Duke done by Sir Joshua Reynolds. It is within this confinement that Sargent tackles the composition.
At the center top is the bust of the first Duke between the tapestry or flags. The two sons are Marquess of Blandford and Lord Ivor Spencer-Churchill
Consuelo Vanderbilt (1877-1964) was married to one of the Dukes of Marlborough (that made her the Duchess of Marlborough) and was Winston Churchill's cousin by marriage. When they were married the duke was 23. November 6, 1895 at St. Thomas Church on Fifth Avenue in the most prestigious Gilded Age wedding. Her father gave the Duke $2.5 million, which he sorely needed to make repairs on Blenheim Palace.

Nouveau riche
Consuelo married Balsan, Jacques, Lt.Col.4 JUL 1921 after the long divorce
****
Winston Churchill was born in Blenheim Castle on November 30, 1874, and though he never resided in it, Blenheim remained a powerful compass point throughout his life. When considering Churchill's political passions, it should not be forgotten how close he actually came to assuming the title of Duke of Marlborough. Between the 1892 accession of his cousin Sunny and the 1897 birth of Sunny's only son, Winston was second in line to the Dukedom. This fact was not lost on Duchess Fanny, who, upon her introduction to Sunny's wife, the American heiress Consuelo Vanderbilt, declared "Your first duty is to have a child and it must be a son, because it would be intolerable to have that little upstart Winston become Duke."
www.lionheartinc.com
*****





See the Natasha's cliff notes on the first Duke of Marlborough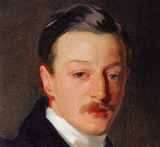 Charles Richard John Spencer Churchill , the 9th duke of Marlborough (nicknamed "Sunny")

W. K. VANDERBILT
He was married. Children were: Consuelo VANDERBILT (Duchess of Marlborough).
Consuelo VANDERBILT (Duchess of Marlborough) was born in Mar 1877 in New York. She died in 1964 in New York. She was buried in 1964 in Blandon Churchyard at Blenheim. Parents: W. K. VANDERBILT.
She was married to Charles Richard John Spencer CHURCHILL (9th Duke of Marlborough) on 6 Nov 1895 in Saint Thomas Church, 5th Avenue, New York, New York County, New York. She was divorced from Charles Richard John Spencer CHURCHILL (9th Duke of Marlborough). Children were: John Albert Edward Spencer CHURCHILL (10th Duke of Marlborough), Ivor Charles CHURCHILL


He asked 2,500 guineas for the portrait (Charteris p.178)
She was tall elegant with a long, swan-like neck. Sargent asked her not to wear a necklace which Sargent compaired to a trunk of a tree[1]
the marrage here was an interesting one. The American Vanderbilt family had grown increadably wealthy, but they were accentially upstart Americans (by Euopean eyes) with no nobility or title. Charles, the 9th duke of Marlborough, on the other hand, certainly had the title but was in dire need of money [2]. The marriage, if not for love, was certainly convenient.
Painted also by Giovanni Boldini


Study for the Duke of Marlborough and Family
1905
Adelson Galleries
Charcoal on paper
14 x 9 1/2 in.

Notes:


Forum


From: Annie Reasoner


an nie ca t45@yahoo.com
Date:

Mon, 25 Oct 2004





My favorite is the painting of the Duke of Marlborough and his American wife, Consuelo because the composition is so subversive -- I mean, he's an English Duke and he's stuck off to one side of the picture while his wife, whose money rescued the family, is the focus of the painting. Also Consuelo was BEAUTIFUL.



*****




Blenheim Palace is 10 miles from the "dreaming spires" of Oxford University and about 30 miles from Stratford-upon-Avon, William Shakespeare's birthplace. It is an easy and pleasant two hours drive from London.
***
There are many real-life stories of marriageable American heiresses who crossed the Atlantic on luxurious cruise ships to find and marry English lords. Author Edith Wharton coined the term "buccaneers" to describe these glamorous ladies who married British aristocracy. Their fathers poured thousands of dollars into maintaining England's grand family estates in exchange for a title for their daughters and bolstered social position for themselves. Consuelo Vanderbilt was one of the most famous buccaneers. Consuelo was the daughter of Commodore Vanderbilt's grandson and his wife Alva. Consuelo's mother - a native of Mobile, Alabama - groomed her to make the wedding match of the century. The beautiful Consuelo had to give up her true love from a ship-board romance, to wed a title. Her mother would settle for no less than the ninth Duke of Marlborough, the heir to Blenheim Palace.

Titanic Weddings
by Cornelia Powell

***

The marriage ceremony took place in1895. the duration of the marriage, over thirty years; the apparent confirmation of the marriage contract by its continuance; the birth of two children, who have now reached maturity; the reunion of the parties after a separation of twelve years, from 1907-1919, and finally the evidence brought out in the divorce proceedings in 1920, which appears to show that the former unwilling party to the original contract had at last given free consent to the union.
MARRIAGE AND ANNULMENT

About Boldini and Sargent's painting good link

******

Each month or so, Vintage Voice features a praiseworthy, fashion lovin' Babe du Jour.

In 1895 Consuelo Vanderbilt, then one of the richest heiresses in America, was forced into a loveless marriage with the 8th Duke of Marlborough by her social-climbing vulture of a mom. Though the Duke (a singularly phlegmatic man, ineptly nicknamed "Sunny") didn't much care for Americans, their $2.5 million dowry was ok by him. The Duchess later poured millions more into the restoration of Blenheim, a decrepit heap at the time of her marriage; it is still one of the great showplaces of Britain today. She was an early and ardent feminist, and devoted her time and money to worthy causes. In 1907 she was separated from her husband; they were divorced in 1921. A very happy second marriage followed, to famous French aviator Jacques Balsan. Consuelo Vanderbilt was one of the great beauties of her age; her elegance and glamor are celebrated in almost every contemporary mention of her name. She was a compassionate and intelligent woman whose memoir, All that Glitters is not Gold, provides an absorbing, if somewhat sober, portrait of the Gilded Age.
Popula Reference Library


1)Consuelo Vanderbilt Balsan, The glitter and the Gold; New York, 1952, p.185
2) Albert Boime, John Singer Sargent, Whitney Museum of American Art, 1986, P. 104
See the year in review 1905
www.blenheimpalace.com