Head of Aesop, Copy after Velázquez

John Singer Sargent -- American painter

1879

Ackland Art Museum, The University of North Carolina at Chapel Hill

Oil on canvas

46.4 x 37.2 cm (18 1/4 x 14 5/8 in.)

Ackland Fund (75.16.1)

Jpg: manetvelazquez.accenture.com




The head is painted at the same scale as Velázquez's.
(manetvelazquez.accenture.com)

Diego Velázquez
(1599-1660) Spanish court painter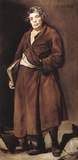 Aesop
1640

Notes:
Special thanks to Malcolm Armstrong, of New York City, a friend of the JSS Gallery, for sending me the link to this image.