IL Gesuati, Venice
John Singer Sargent -- American painter
Date?
Private
Watercolor mixed
18 x 12 in.
Jpg: Askart.com
Again, Sargent paints from a gondola looking east by northeast from the canal della Giudecca.
(Map E7)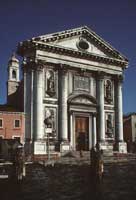 Photo: IL Gesuati
Note:
Sold Sotheby's; 5/25/1988; Lot 168; $154,000
Date estimated by Natasha: really could be any number of years but included with 1907 just for the sake of narrative.
See the year in review 1907