Lady with the Rose
(Miss Charlotte Louise Burckhardt)
John Singer Sargent -- American painter
1882
Metropolitan Museum of Art, NY
Oil on canvas
84 x 44 in.
Bequest of Mrs Valerie B, Hadden, 1932
Jpg: Wonsug Jungg jasonj05's photostream
(Click on Image to Step Closer)
From: Wonsug Jung
10/9/99
. . .the woman Sargent had [a] relationship with her right before she got married was Charlotte Louise Burckhardt (Lady with the
Rose, which is hanging in the Metropolitan Museum of Art . . . I have read somewhere that there was even a talk of an engagement. She died so young, not long after her marriage, and though she looks very charming to my eyes in that painting, she is not attractive at all in the portrait where she and her mother was featured together.
From: Wonsug Jung
10/10/99

"A romance between Sargent and Louise, perhaps initiated by Mrs Burckhardt, developed in the early 1880s and there was talk of an engagement, but prospects of a marriage seem to have evaporated by the summer of 1883." -- Complete Paintings vol.1 by R. Ormond p.65
She married Roger Ackerley in 1889 . . .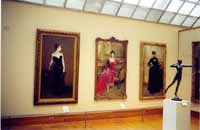 See art displayed at the Met
2002
Note: