Apollo and the Muses
John Singer Sargent -- American painter
1921
Museum of Fine Arts, Boston
Rotunda mural
Oil on canvas

283.21 x 428.62 cm (111 1/2 x 168 3/4 in.)
Francis Bartlett Donation of 1912 and Picture Fund 21.10512
Jpg: Lee Sanstead
Jpg2: MFA
Apollo is the god of light, the patron of music and fine arts. Often in his attendance are the muses. Earlier numbers were unclear but the Greeks finally established nine muses in mythology:
Calliope, the Muse of epic poetry
Clio, the Muse of history
Polyhymnia, the Muse of mime
Euterpe, the Muse of flute
Terpsichore, the Muse of light verse and dance
Erato, the Muse of lyric choral poetry
Melpomene, the Muse of tradegy
Thalia, the Muse of comedy
Urania, the Muse of astronomy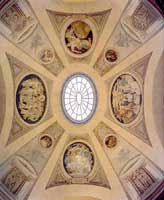 Rotunda Dome Decorations
Looking straight up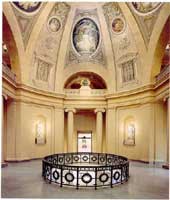 The Rotunda


From the top of the Grand Stairway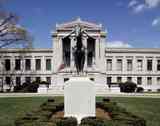 Museum of Fine Arts, Boston

Notes:
Special thanks to Lee Sandstead of New York, for being a friend of the JSS Gallery, for taking this picture on his trip and sharing this with us.