Madame Errazuriz (2)

John Singer Sargent -- American painter

c. 1883-1884

Private collection

Oil on canvas

48.3 x 39.4 cm (19 x 15½ in.)

Jpg: Sothebys


A very similar painting of one he did for her earlier. Possibly she had someone that liked the first so much she might have requested another.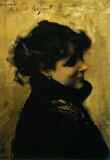 Madame Errazuriz c. 1880
Provenance:
The sitter Don Eugenio Errazuriz, by 1948 Professor Maximo Pacheco Hirschl & Adler Galleries, New York, by 1964 Acquired by Ogden Phipps from the above
Literature:
David McKibbin, Sargent's Boston, Boston, Massachusetts, 1956, p. 94 Charles Merrill Mount, John Singer Sargent: A Biography, New York, 1969, no. 8317, p. 437 Richard Ormond, John Singer Sargent: Paintings, Drawings, Watercolors, London, England, 1970, p. 19 Richard Ormond and Elaine Kilmurray, John Singer Sargent: The Early Portraits, Complete Paintings, Volume I, New Haven, Connecticut, 1998, no. 70, pp. 78, 244, illustrated in color p. 77



Notes:
Sold at Sothebys; Session 1, 04 Dec 2002, 10:15 AM; Sale# N07854, Lot 40; $532,000
Selling from the estate of Ogden Phipps
See the year in review 1883